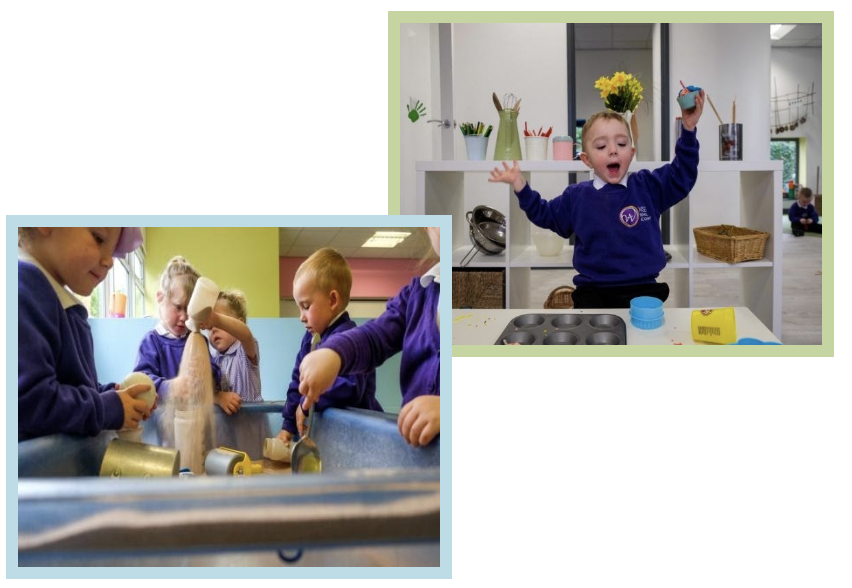 Bexhill Academy Early Years Provision offers opportunities for every child to become a unique child, developing positive relationships, within an enabling environment, where their learning and development progresses to its full potential.

We provide a fully inclusive environment where each child can experience the full range of activities and learning on offer.
2 year old provision
Newly built for September 2018.

All brand new resources.

15 hours per week (PM sessions)

Funded or paid places available.

1 adult to every 4 children.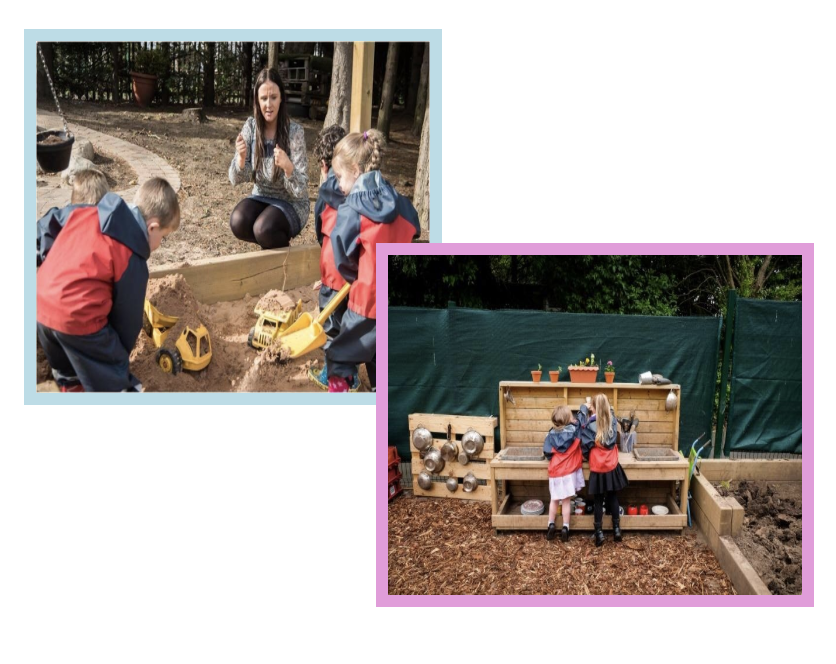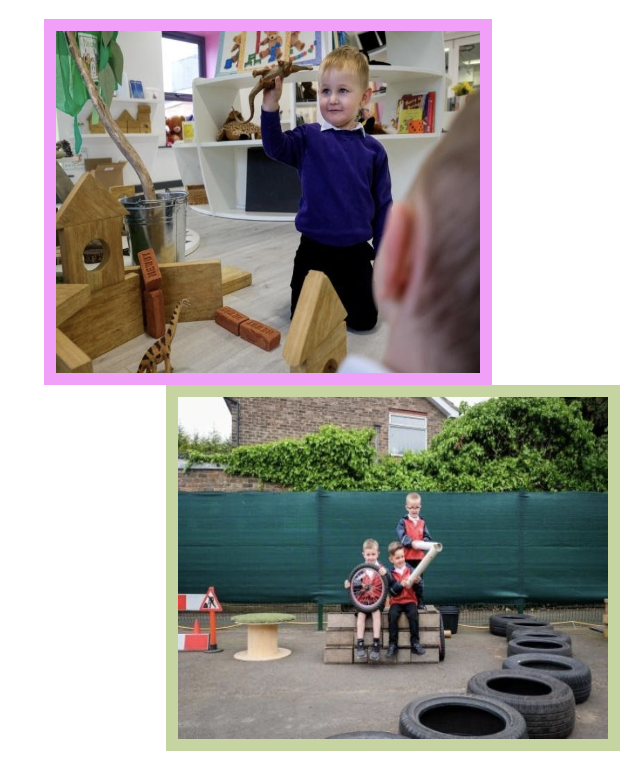 Nursery
Your child can start the half term after they turn 3!

ALL children are eligible for 15 hours per week for free

Free government funded 30 hour places (depending on eligibility).

Childcare sessions available meaning you can top up your child's session to a full day at a small cost.

New environments and resources.

Recognised nationally.

We are delighted that you have chosen Bexhill Academy for your child to start their journey through education.  Our 2 year old provision offers opportunities for your child to become a unique child, developing positive relationships, within an enabling environment, where their learning and development progresses to its full potential. We will provide a fully inclusive environment where each child can experience the full range of activities and learning on offer. 
Child Initiated Play
We encourage a lot of child-initiated play. Staff are skilled in being able to join in and extend children's learning through quality interactions and questioning. Play is essential for children, building their confidence as they learn to explore.
Key Worker
Each child will be assigned a key worker when they join the provision who will plan and record your child's learning journey and development. This will be stored in an Online Learning Journal. You are invited to share and contribute to this. We use 'Evidence Me' which you will be invited to join via email when your child starts. Once you are linked up to your child's profile you will receive an email to notify you whenever we share any WOW moments or observations with you. You can also share key learning or experiences from home with us!
Areas of Learning
We will work in partnership with parents to ensure that children are 'ready' for their next educational phase. There are seven areas of learning and development that will shape the educational programmes on offer in 2 year old provision. There is a strong focus on the 'prime areas' as this underpins children's capacity to learn, form relationships and thrive. 
The prime areas are: 
∙ Communication and language 
∙ Physical development 
∙ Personal, social and emotional development 
The children are also supported in four specific areas, through which the three prime areas are strengthened and applied. 
The specific areas are: 
∙ Literacy 
∙ Mathematics 
∙ Understanding the World 
∙ Expressive Arts and Design 
Our 2 year old provision will offer activities and experiences for children, as follows: 
∙ Communication and language development involves giving children opportunities to experience a rich language environment, to develop their confidence and skills in expressing themselves and to speak and listen in a range of situations. 
∙ Physical development involves providing opportunities for children to be active and interactive and to develop their coordination, control, and movement. Children will be helped to understand the importance of physical activity, and to make healthy choices when selecting snack food. 
∙ Personal, social and emotional development involves helping children develop a positive sense of themselves and others, to form positive relationships and develop respect for others. It also involves developing children's social skills, helping them learn how to manage their feelings, to understand appropriate behaviour in groups and to have confidence in their own abilities. 
∙ Literacy development involves opportunities for mark making to begin the process of writing. Children will be given opportunities to access a wide range of reading materials and lots of opportunities to share stories together with practitioners. 
 ∙ Mathematics involves providing children with opportunities to develop their skills in counting everyday objects and to describe shapes, spaces and measures. Children will be learning through play and exploration, such as water play to fill and empty different sized containers. 
∙ Understanding the world involves guiding children to make sense of their physical world and their community through opportunities to explore and find out about the environment around them. Activities such as splashing in puddles or rolling down a hill will ignite children's curiosity.
∙ Expressive arts and design involves enabling children to explore and play with a wide range of media and materials, as well as providing opportunities and encouraging self-expression through art, music, movement, dance, role play and design and technology. 
Assessment
We believe assessment plays an important role in helping parents, carers and practitioners to recognise children's progress, understand their needs, and to plan activities and support. Ongoing assessment will involve the 'Key Person' observing your child to understand their level of achievement, interests and learning styles, and then shape learning experiences for each child reflecting those observations. For example, if a child loves messy play, then this provision will be enhanced to give a greater level of opportunity for learning through this medium. The key person will respond to the day to day observations about children's progress and observations that parents and carers share. The key person will address any learning and developmental needs in partnership with parents and/or carers, and any relevant professionals.
Safeguarding
Children learn best when they are healthy, safe and secure, when their individual needs are met, and when they have positive relationships with the adults caring for them. It is our duty to safeguard your child by;
ensuring the suitability of any member of staff working with your child.

promoting a child's good health.

managing behaviour effectively.

maintaining records, policies and procedures. 
If we are concerned about a child's safety or welfare, then it is our statutory obligation to notify outside agencies without delay. This means the local children's social care services and, in emergencies, the police. 
Staffing
Staffing arrangements follow the statutory guidelines. For children aged two there will be at least one member of staff for every four children.
Gemma Savage is the room leader and Linda Scott is the TA and they both hold full and relevant qualifications.  We also have two fully qualified teachers who will oversee the provision. All staff will undertake appropriate training and professional development opportunities to ensure they offer quality learning and development experiences for children. At least one member of staff holds a current paediatric first aid certificate.
Uniform
Please dress your child in:
Purple jumper/cardigan

White polo shirt

Plain black Velcro shoes or trainers
No jewellery is permitted and please make sure ear-rings are removed.
Here is the link to the company that provide the embroidered uniform: https://studentuniform.co.uk/ba109/
Toileting
We have a separate changing facility for any child who is still in nappies. We ask parents to supply spare clothes, pull ups and baby wipes for their child. We will support children in their toilet training and encourage children to wear pull ups, rather than nappies. We will not be using a potty, but encouraging the child to use the toilet as a developmental learning target. PLEASE NOTE: If a child is soiled or wet, they will be cleaned and changed into spare clothing. If a child is repeatedly soiling, then we will phone the parent and/or carer to collect the child to prevent any spread of a possible infection. 
Healthy Eating
We operate a healthy eating policy within our Academy.
Please ensure your child has eaten their breakfast before coming to school.

We provide milk, water and fruit during the session.

Please do not provide your child with crisps, fizzy drinks, sweets etc. on the school premises.

You can provide a birthday cake for your child and this will be shared for the children to take home.
Outdoor Learning
Children will have daily access to the outdoor area. Please provide a pair of wellington boots that can remain in school at all times. If it is a sunny day, parents are asked to apply suitable sun protection to their child and provide a sun hat. The outdoor area is risk assessed daily for suitability of resources and ensuring they are free from any potential hazards. 
Session Times
The children will access the provision daily 9am -12pm. Please ensure you drop off and pick up your child on time. Due to COVID -19, only 1 adult at a time can drop off and collect. Also please adhere to social distancing during drop off and pick up. 
Exit Routine
Children will only be released into the care of individuals who have been notified on the contact form. We will challenge any adult trying to pick up a child who is not known to the Key Person. We will phone the parent and/or carer to notify them that an unknown adult has come to collect their child. We do not release any child to anyone under the legal adult age of 16.
Other important information
Please ensure there are spare clothes in your child's bag at all times.

Please write your child's name on ALL of their uniform, including shoes!

Everyday counts towards your child's educational achievements.  The more your child attends our 2 year old provision the more progress they will make!

If your child is unwell, and is unable to attend, please inform us by ringing the school office before 9am on 0191 7070120.

Please inform us if you change your address or telephone number. This will enable us to contact you immediately should an emergency arise. Please apply this same rule to ALL emergency contacts.

Please read the medication policy and intimate care policy and make sure you are clear of our procedures.

Please provide a 50p donation each week to help towards the purchase of sensory resources and items linked to your child's interests.
How to keep up to date:
Visit our school website:

http://bexhill.wiseacademies.co.uk/

Like us on Facebook:

https://www.facebook.com/BexhillAcademy

Download the 'class DOJO' APP and when your child starts you will be given a code to give you access to your child's profile. You will receive key messages, reminders and whole group photos through this APP. 

Link up to your child's 'Evidence Me' profile (you will receive an email) and you will get individual learning updates about your child.

Keep your mobile number up to date as we send out regular text messages.
We look forward to welcoming you and your child to our 2 year old provision!
If you have any questions in the lead up to your child's start date please call 0191 7070120 and ask to speak to Katrina Di Girolami (Assistant Headteacher).